Natural Pine Cat Litter – Nature's Scoop™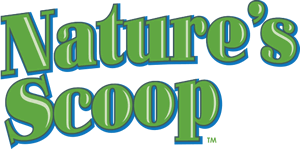 Nature's Scoop™ is a high performance, odor eliminating and quick clumping pine-based cat litter. Nature's Scoop™ outperforms other cat litters on the market – whether pine, clay, corn, nut or other materials.
It works! And, it's sustainable!
With some earth-friendly, sustainable products, performance suffers.  They don't always work the way you want them to.  That's definitely not the case with Nature's Scoop™.  Yes, it's good for you, good for your pets and good for the planet.  The key is that is really works, too.  Initial product testing has shown Nature's Scoop™ to outperform other cat litters on the market - natural and artificial alike.
It's an environmentally sound, healthy and organic choice for your pet and your home.
Nature's Scoop™ key features include:
Super Absorbency.  Nature's Scoop™ features super absorbency with excellent, long lasting odor control that traps odor causing urine, immediately neutralizing odors to result in a naturally fresh pine scent.

Contains an activated biochar

– TrueChar™.  Adding an organic, activated carbon product dramatically enhances odor control and duration of odor control.

Quick Clumping

.  It's quick clumping formula quickly results in strong, easy-to-scoop clumps.
Dust Free & a Cleaner Home. Nature's Scoop™ eliminates the silica dust you breathe in with clay-based litters.  It's also low tracking; so your home and pet areas stay cleaner.

Environmentally Friendly

. This 100% natural cat litter's main ingredient comes from recycled Rocky Mountain pine tree material.  It's a biodegradable product which is easier on the environment.

No Fake or Artificial Additives

.  Nature's Scoop™ contain no artificial fragrances, toxins, chemicals or dyes.  It is safer for your cat, for you and for your home.
For more information or to order Nature's Scoop™ cat litter, call 970-724-9839.