100% Organic Pine Cat Litter – EcoPett Cat Litter™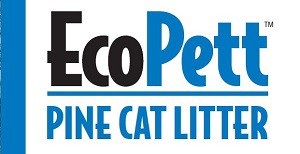 EcoPett Cat Litter™ is a high performance, quick-clumping cat litter that is super absorbent and with powerful odor control.  It lasts longer and outperforms other cat litters on the market – whether pine, clay, corn, nut or other materials.
Consciously Created for a Healthier Cat & Home
EcoPett Cat Litter is:
Sustainably produced.  It's the only cat litter on the path to a carbon-negative
manufacturing process.
Healthier for your pet, you and your home.  It's 100% organic.  That's clay-free (no harmful silica particles),
dust-free, fragrance-free and toxin-free.
Made only from environmentally friendly ingredients, including recycled, beetle-kill pine trees and activated Carbon (which traps and eliminates odors).  It's completely biodegradable.
Powerful, with incredibly long lasting performance.  EcoPett Cat Litter lasts up to 4 times longer than traditional clay litters and 2 times longer than other natural litters.
Our Commitment
We are committed to protecting our planet Earth by utilizing local beetle-kill pine and other natural ingredients to produce our products and by using our innovative, patent-pending, sustainable manufacturing process. With this, we are reducing our carbon footprint by 25% through the production of biochar, which sequesters carbon, and by deriving 50% of our energy from renewable, biomass sources.
Availability
EcoPett Cat Litter is currently available in 20 lb bags.
To Order or For More Information
Contact us at 970-724-9839.